Ventilation, Whirly Birds and Solar Vents
Home Ventilation is of paramount importance says Troy of Hinter Air, as moisture is drawn into roof spaces from shower and kitchen fans, and can cause allergy-causing mould and mildew. Adequate roof space ventilation does help maintain a dryer atmosphere.
With a Solar Whiz Home Ventilation roof system, roof temperature can be returned close to the outside ambient shade temperature, thus taking all that heat pressure off the home. We service the Sunshine Coast and surrounding areas, including Cooroy, Pomona, Cooran, and Gympie.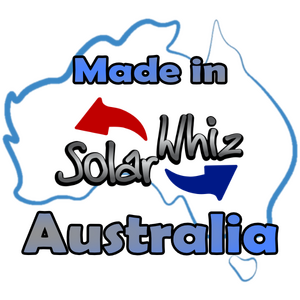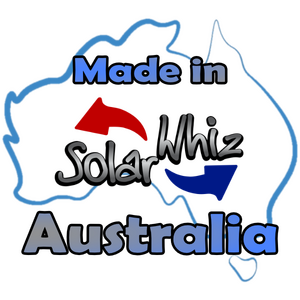 ---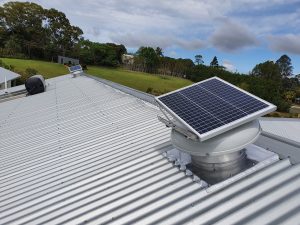 Solar heat causes elevated heat in the roof but Solar Whiz roof vents continuously exchange roof air to avoid heat build-up.
APPLICATIONS
Homes
Cabins
Workshops
Factories
Warehouses
Sheds
Animal enclosures
Schools
Halls
Office Spaces
COOLER IN SUMMER
Summer roof temperatures often exceed 70°C. This greatly increases room temperatures inside your home. Solar Whiz solar roof ventilators can reduce roof temperatures by up to 30°C and room temperatures by up to 6°C.
REDUCES CONDENSATION BUILD-UP
Fights mould and condensation build-up in your roof space. Reduces the likelihood of mould spores in the roof space that can affect the health and air quality inside your home.
IMPROVES ENERGY EFFICIENCY OF DUCTED AIR CONDITIONING
Roof temperatures of up to 70°C in summer significantly affect the efficiency and performance of roof ducted A/C systems, by heating up the cooler air running through the A/C roof duct pipes. Solar Whiz solar roof ventilators address this reduction in efficiency and cooling by reducing the air temperature in the roof by up to 30°C in summer.
NO RUNNING COSTS EVER
Being totally solar-powered, Solar Whiz solar roof ventilators have a $0 operating cost over the life of the product.
QUIET OPERATION
Whisper quiet operation by using a brushless DC motor and polycarbonate fan blades.
OPTIONAL NIGHT OPERATION AVAILABLE
An optional Night Operations kit can be added to the Solar Whiz roof ventilation system that allows it to switch over to mains power so that the fan can continue operating at night.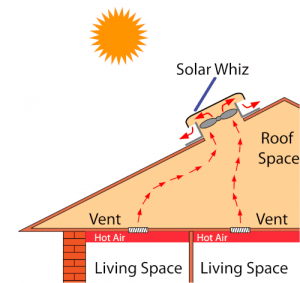 OPTIONAL THERMOSTAT OPERATION AVAILABLE
A thermostat can be included in the installation to give extra control over when the roof ventilation system starts and stops. It can also be used to deactivate the system when it is not needed.
SOLAR WHIZ VS WHIRLYBIRDS
Solar Whiz roof ventilators are far more powerful than conventional roof whirlybirds. These solar roof vents can move up to 2300m³/h of air, compared to about 100/150m³/h for whirlybirds!
---
Contact us now for a free quote today!